5 Reasons Why NoxInfluencer Is the Hottest New Influencer Marketing Platform
It's 2018, and "old" marketing tactics and strategies can only get you so far. These days, one of the best ways to connect your brand with an active and enthusiastic audience is through influencer marketing. Unlike slow, clunky, and expensive traditional forms of marketing, influencers get things done now. They offer something that traditional marketing strategies have never truly captured—the ability to engage directly with the audience you want for your brand. As a matter of fact, 70% of millennial consumers rely on influencers for their buying decisions.
Whether you are an influencer or a brand, you are part of the next monumental movement in global marketing, and there is no better time to take advantage of it other than today. Finding the right brands to work with or finding reputable influencers to represent your name can be difficult; with so many to choose from, how do you know which one to choose?
The answer? NoxInfluencer. As a worldwide leading influencer marketing platform, NoxInfluencer offers one of the quickest and smoothest paths for both influencers and brands to find the partner they want to work with. NoxInfluencer understands that influencer marketing isn't just a business; it's a lifestyle. Here are 5 reasons why NoxInfluencer is the marketing platform you need to work with today:
1. Experience and Professionalism
Influencer marketing is still in its infancy, and still has a couple of quirks that it needs to clear up. One of the biggest problems that both brands and influencers have to deal with is finding great and reliable partners to work with.
As a brand, you don't want to accidentally sign up with an influencer who creates embarrassing or shameful content, or someone who doesn't actually have a large enough following. As an influencer, you don't want to sign up with a brand that is unscrupulous when it comes to your payment.
NoxInfluencer recognizes these difficulties because they know exactly what the industry is like. Since 2015, NoxInfluencer has been pairing influencers and brands together, making sure to create successful partnerships.
Unlike other influencer marketing platforms, NoxInfluencer doesn't let just anyone sign up. To become a part of the NoxInfluencer community, you must have a proven track record of success as a brand or as an influencer. You can therefore feel safe knowing that any potential brand or influencer you connect with on the NoxInfluencer platform is one that has been vetted and screened for reliability.
2. Simple, Easy, and Quick
Quick: how long do you think it takes to create a commercial? Even if it's just a 30-second ad, there are already at least a dozen things to think about before filming even starts, including:
Find your audience
Target your message
Decide on a budget
Decide your commercial length
Write, edit, and rewrite a script
Storyboard every second of the commercial
Create a shot list
Hire a production team
Designate a schedule
Book set locations and studio times
Rope together actors, stage equipment, production crew, directors, and more
All of those steps need to be dealt with way before shooting your first scene. There's a reason why the average commercial takes at least six months to create, from start to finish: it involves a lot of work.
But the age of influencer marketing lets you skip all that and still get your target audience. In this regard, NoxInfluencer might be the fastest and simplest influencer marketing platform to sign up on.
The Noxfinder tool makes finding successful partnerships as easy as filling in a search box. Brands just have to enter a keyword related to their product into the Noxfinder tool and they will immediately be matched with the right influencers; those that represent the brand's desired audiences and demographics. This will be based on their tags, videos, and overall social media presence, so that brands never have to waste their time with influencers that have nothing to do with their brand's image.
At NoxInfluencer, everything is simple and clean. You can either create your campaign and start browsing through influencers in your chosen markets right away or start sending creative proposals to brands you would love to work with. No hassle, no stress.
3. A Package for All Brands
We get it—influencer marketing can seem like a risky decision for newcomers, small businesses and large corporations alike. Small businesses have limited budgets, so you want to make sure that you are getting your money's worth. Large corporations, on the other hand, value professionalism and efficiency, and would only want to target an audience that resonates with their brand.
NoxInfluencer tops our list of flexible packages offered to brands, something you don't always see with influencer marketing platforms. Rather than taking the "one size fits all" approach, NoxInfluencer takes into consideration different kinds of businesses with different sets of needs.
You can see their packages below: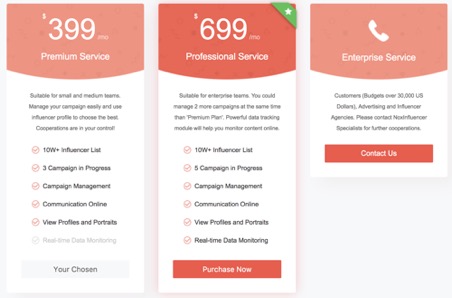 Even the most affordable package still offers Premium services, with all the features that a smaller business could ask for. If you are a larger brand, the Professional Service package is more than worth the added value; Real-Time Data Monitoring is exactly what larger brands need that smaller business can do without. And with the Enterprise Service package, NoxInfluencer shows that it is more than willing to work with special brands who have special needs.
One great feature that these packages include is the tracking function. With tracking, NoxInfluencer helps brands understand all the technical metrics surrounding their promotional or sponsored video. Details such as views, downloads, and clicks will be made available to the brand so that they can see exactly how successfully the video performed, and which areas can be tweaked to make it even better.
It's a platform that values service, and in an industry that can often be too impersonal, this is definitely a characteristic worth appreciating.
4. Protecting Influencers At Every Corner
As an influencer, small or big, it can be pretty daunting going over into marketing. Most, if not all, influencers started out as YouTube or Instagram entertainers and personalities, doing something they loved just for fun. Suddenly dealing with companies, advertising, and marketing budgets may be something that most influencers have no experience with. As a result, influencers usually fall victim to brands and platforms that cheat or take advantage of them.
At NoxInfluencer, influencers are protected. Perhaps the most amazing feature is that influencers have full control of their contracts and partnerships. Influencers are never forced into shady contracts and abusive terms and conditions. As an influencer, you will have access to flexible payment methods, creative proposals, zero intermediary fees, and absolute freedom to choose the brands and agencies you work for. Is there anything more an influencer could possibly want?
5. Backed By A Global Leader In Smart Distribution
When you're looking for an influencer marketing platform to work with, the most important aspect the partnership is trust. Some platforms like to scam more than they like to serve and have left a bad taste in the mouths of many professional and legitimate brands and influencers. Platforms that come out of nowhere, with no history and no experience, are the ones that are most likely to take advantage of this brand-new industry in marketing.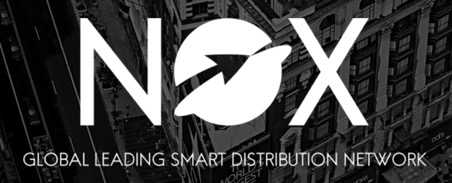 At NoxInfluencer, this is one less thing you have to worry about. NoxInfluencer is just a branch of the much larger NOX Group, the world's leading smart entertainment distribution network. NoxInfluencer is just one of the NOX Group's several successful enterprises, which include NoxGamer, NoxApp+, and AlAdMobi, which all work under the unified goal of providing millions of users around the world with applications and pan-entertainment content to last a lifetime.
Reliability and professionalism? Check.
Find Your Influencer Partner With NoxInfluencer Today
Looking for a reliable and trustworthy influencer marketing platform? NoxInfluencer is one of the best platforms on these two fronts and it should provide for an easy choice. They protect their brands and influencers and create the ideal environment for creatives and businesses to match and meet. NoxInfluencer provides everything you want and more, and we expect them to continue growing in this industry over the coming years.